The sun was shining bright and the River Thames was peacefully flowing throughout the city, Wembley Stadium was perfectly green as usual and the Great Bell (Big Ben) was beating 4 o'clock pm. I am in London.
Firstly, I can't help mentioning my new exploration & amazement - London Сity Airport. Hidden in the heart of the capital, very few people fly there. But the benefits are so evident! The fastest ever customs, no questions, short distances to walk, almost no people and those who are - with smiling faces. City-center is at hand's distance which saves you long drive from Heathrow. What else to wish from an airport!
Having just arrived, I directly headed to the 'Rainmaking loft' - a modern creative venue in charming St. Katharina's Docks. The pre-event unconference on corporate accelerators was kicking off! For those, who found too many weird words in the previous sentence, I open doors to the novators language: unconference - is a new type of event held before the main one, a format can vary from discussion tables to brief talks, peer-to-peer discussions, various activities. Corporate accelerators - fast programs to test business-ideas organized specifically for a corporation, usually, with a particular focus, for instance: fintech, telecommunications, cyber security, etc.
'There is obviously a raise of corporate accelerators all over the world with the trend penetrating to emerging markets,' - an opening presentation with accurately gathered statistics by Toby Lewis, Chief Analytics Officer, GCV Analytics said. In the next 2-3 hours the topic was explored and discussed from many tangles much deeper and wider by genuine gurus of the space. Among those are: Kauffman Fellows, L Marks, Tech Stars, Startup Bootcamp, Miscrosoft Ventures & Accelerators, Founders Factory and Javelin. One of the main outcomes of such a professionally saturated collaboration was preliminary agreement on creation a complex research on corporate accelerators worldwide with in-doors inputs by the flagships of the field.
Several hours later somewhere in the clouds, on the 35th floor of the Shard we were to celebrate the 'Rising stars' dinner - with top 100 venture capitalists and specially invited gurus of the corporate venture capital world. The view was breathtaking. The whole London seemed to be at a glance. At my table I was surrounded by gallant gentlemen from Finland, US, UK and Israel. We all had a brilliant chance to share our venturing ecosystems differences as well as talk arts, travelling, politics (including provocative Trump campaign and if they would go on well with Putin) and, surely, latest cutting-edge technologies in our geographies.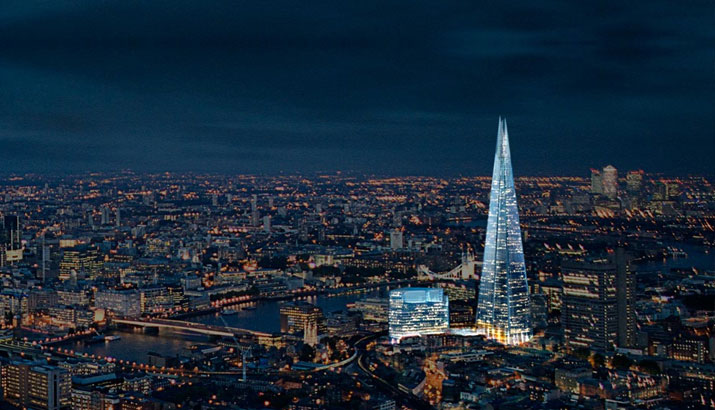 Dark blue conference room, men in suits, very familiar smell of coffee and expectation of a big event about to start. Here we are! At the Global Corporate Venturing Symposium 2016 in London. The theme of this year Symposium was "A true view from the crow's nest": what are the forthcoming near and long-term disruption threats and opportunities in corporate venturing. And how top management of a company look beyond just corporate venturing and combine it with the innovation toolkit.
James Mawson, Founder and Editor-in-Chief of GCV welcomed everyone and draw the horizons of global venturing. "There are now more corporate venturing units, with GCV tracking more than 1,500 and about a dozen launches a month, and these are increasingly active, with 801 conducting venturing deals last year," - specifies Jim in his speech.
Energetic and bright were the pitches of 4 corporate venturing stars including Sue Siegel, General Electric's GE Ventures, Dominique Megret, Head of Swisscom Ventures, Nagraj Kashyap, Head of Microsoft Ventures and Ralf Schnell, chief executive of engineering company Siemens' strategic investment division, Siemens Venture Capital. Among their main arguments were digitisation that is causing major disruption, the declining cost of technologies as another vital element of disruption, grand changes in industrial design and manufacturing with 3D goods leading to individualisation, healthcare moving towards personalised medicine and how taken all these CVCs can benefit from rapid changes.
The spicy ingredient of the London GCV was a speech of the managing director of Tencent Investments Jeffrey Li. In 2015 alone he conducted about $5bn worth of equity deals in some 100 companies. Believe or not, but it is more than Google and Apple investments combined together. And this playerhas just entered VC market (5 years ago). Now Asian tiger is looking at Europe with a big appetite estimated at billion dollars.
Multiple insightful discussions, talks, fireside chats of all kinds fulfilled the day. Among the others, I would highlight "Mapping the university venturing world" together with "Opening data from Global University Venturing" examining growing universities activity on the venturing market. "Lessons from Rising Stars" emphasizing a new innovation toolkit and approach to attract and incubate talents."How tech and investing can change the world" - an inspiring interview with Puneh Ala'i and Josephine Goube moderated by Alexandra Johnson providing a deep look how true passion, technology and venturing can make difference and turn thousands of people's lives for better.
Among various unpanels of the Day, I picked up "Can Corporate VCs be really valued investors?" Sitting at the round table we were revealing a special path and role of Corporate VCs in the venturing world and the specific value they bring to startups. It includes additional resources such as labs and equipment to test a product, knowledge access, quicker penetration to the market through company's network, database access and, surely, investments.
Day 1 was wrapped with the "Powerlist 2016 Dinner", naming the 25 most influential corporate venture investors in the world. The list formed part of the Powerlist 100 top corporate ventures and was topped by Jeffery Li, managing partner of the Chinese internet-portal giant Tencent. Wendell Brooks, the new boss of Intel Capital, came in second, with Charles Searle at South Africa-based Naspers in third.
The Symposium, by the way, was taking place at the foot of a London pearl - St. Paul's Cathedral. To my deepest believe, one of the greatest buildings humanity created.
I got lodged nearby, so those two mornings I was happily walking to the place along Strand Street rolling in the Fleet Street, London major thoroughfare of historic and meaningful for the country buildings and institutions. At my left hand side, I was passing Royal Court of Justice, Peacock Theatre, St Mary le Strand Church and on my right hand side situated King's College, London, Temple Church, Durham and Cecil House. "Between it and the river lay the palaces of the great nobles, and on the other side the green fields stretched away without a break to the north...," once said Charles Dickens about the Strand back in 1879.
The second day morning started with a spotlight on the future of telecommunications. A straw poll of symposium delegates reached a conclusion that the dominant telecoms operators would be affected within the next 10 years as new entrants disrupted traditional revenue streams, and competitors, such as Google Fiber, emerged from left field to challenge them. And this is an obvious call for independent thinking and various approaches needed from the giant of the field to survive.
Morning talks & discussions went rather quickly and now 11.30 am was approaching with me moderating an unpanel on 'Russian Innovation & Venture Ecosystem'. The surname list of my wonderful Russian speakers was slightly reminding an anecdote: Vainberg, Minasyan, Johnson and Gogolev (who, finally, gave an idea what country this table was about), though the combination of them was a true "bomb" taken the variety of experiences we had at the one table.
The unpanel went well. The main and, to my mind, very "hands-on" result of our discussion was two investors flew to Russia already next week to explore its ecosystem and source promising startups. Among the other unpanels took place China, Brazil, UK, Finland, India, South Africa, Germany and France.
The second part of the day brought a number of curious insights, too. Martin Haemmig, adjunct professor at Cetim, took the stage with what he called a "Martin-style talk" (rather than a TED-style one) on the US versus Europe performance characteristics in both corporate and independent venture capital. Using data from Pitchbook, Haemmig's analysis showed US-based VC fund vintages between 1995 and 2009 outperformed European peers at the top level but with a far wider spread of returns between the best and worst. However, when looking at the 2010 to 2013 fund vintages, he noted a substantial change. Whereas the top quartile of US-based VC funds had an internal rate of return (IRR, a form of annual performance,) of 37.2%, in Europe the top 25% had returned 57.9%. The key conclusion of what is said above is that European rivals show better results from the quality point of view while the US remains a lead in terms of number of investments.
Another profound view was stated by Erik Vermeulen, head of governance at Philips Lighting and professor of business and financial law at Tilburg University. He argued for a new approach to corporate venturing where it should be used to remove the corporate aspects of the parent company in order to bring it into the 21st century. Vermeulen listed seven corporate venturing strategies to achieve the goal of making the parent company "uncorporate": direct and indirect investments – traditional CVC; external incubators and accelerators; co-working spaces; retaining acquired founders and maintaining acquired startups' identities; in-house incubators; and turning the corporate into an ecosystem with "fluid and vanishing boundaries" with the outside community.
Traditionally, the dessert of the second day was startup pitching. This year's supply of young perspective entrepreneurs was delivered by Silicon Valley bank, SETsquared and Scottish Entreprise. The list of pitching startups can be found here.
A special feature of the day and the whole Symposium was a long-anticipated drink reception located at the roof of St. Paul's hotel. Just pure look at the magnificence of St. Paul's Cathedral did not leave you a chance to doubt your being there. Slightly tired, but always 'ready to' VCs were happily discussing deals, technology and plans for future.
When coming to London, I can't help, but staying there on the additional 2-3 days rendez-vous with a city. From Mayfair through Covent Garden to Barbican I walked many historic twisting streets, little green gardens, boutique cafes, tasted some oriental food at the local markets, bought a few marvellous souvenirs and listened to the street musicians. I adore London for a simple fact that every door and window can tell you a long story tracing back to centuries ago, when William the Conqueror set his feet at this land and began "Westminster Wall".
Thes story of my voyage can last almost forever being fullfilled with many "moments" and affairs. Though some of them will remain only between me and the city. Whatever and whenever you come to London - it is never enough.